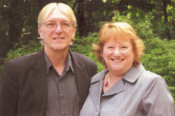 Steven J. Schmidt is the founder and director of Love Packages, a worldwide missionary outreach, which circulates Christian literature by collecting new/used/outdated material from across the United States and shipping it to third world nations.
Born and raised in Illinois, Steve attended the Lutheran Church and went to parochial school through the eighth grade. But in 1965 Steve left the church, not to return again for six years.
Those six years were filled with drugs, alcohol, rock & roll and hatred; it was a constant downward spiral. To his peers, he was a man to be envied, having plenty of money and drugs. Inside he was a man who needed forgiveness and a new heart.
After the traumatic loss of everything he considered valuable, Steve began his search for "the truth." After searching various religions and systematically finding errors in their writings, he turned to the Bible. In his attempt to prove the Bible wrong, Steve proved to himself that the Bible was indeed the Word of God, and that Jesus was the Christ. Steve received the forgiveness he needed, and Christ gave him that new heart.
Since that time, Steve's one desire has been to see people brought to the saving knowledge of Jesus Christ. He has had the opportunity of sharing the Good News with thousands of people around the world through Bible studies, prayer meetings, luncheons, Full Gospel Business Men's Fellowships, numerous radio interviews and TV programs across the U.S.
Twice, he has been a guest on Christian Broadcasting Network's popular TV show, "The 700 Club."
Steve is a dynamic preacher who has ministered in many different nations, at youth conventions, churches, crusades, and has been the keynote speaker for the General Council of the Assemblies of God, Philippines. He has been used effectively and powerfully at missions conventions because his heart beats missions.
Steve now resides in Butler, Illinois, with his wife, Jeanie. From there, he oversees the operation of Love Packages, the ministry he began in 1975.
You can listen to Steve's 2 part teaching on "How to Rule over Your Mind" HERE