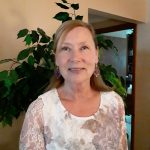 Hi, my name is Viola West. When I was a young girl I gave my heart to Jesus and was baptized but had no teaching and soon fell away. As a young mother at the age of 26, I was reintroduced to the gospel message and rededicated my life to Jesus. Over time I began to understand how
important it is to know the word of God. When challenges came into my life, I did not always run to God and His word first. But God was so faithful and was always there waiting for me to come back to His word and to get back on the right path. I am so glad I know our loving Savior. He is truly my rock and my strength! "The Lord lives, and blessed be my rock, and exalted be my God, the rock of my salvation.." (2 Samuel 22:47) ESV
In 2016 my husband Ken went home to be with the Lord. We raised 4 wonderful children and now have 7 grandsons and 4 granddaughters. After thirteen years, I retired from my position as administrative assistant at the Montgomery County Farm Bureau in Hillsboro, IL and in 2017 came to work at Love Packages. It is so rewarding and a privilege to be a part of a ministry that sends God's word to the nations. It is amazing and so wonderful to see how God provides just what people need at just the time they need it the most and to hear the testimonies of salvation, healing and deliverance that have happened because of the literature that has been sent over the years. I am looking forward to all of the testimonies of God's love and answered prayers yet to come. We serve a great big God!