Donate
How to Properly Dispose of Old Bibles
Pastors and ministry leaders get this question a lot, "What is the proper/correct way to dispose of an old bible?"
It's not something you really think about until you find yourself with an old, worn bible in one hand and a shiny new one in the other. Or until you inherit a small library and find an old family bible on a shelf. But it's a good question.
There is Not a Single, Proper Method for Disposing of Old Bibles
It seems like an event that should have some assigned rule or ritual—like disposing of a tattered flag—but it doesn't. There is no one, ultimately "correct," way to dispose of an old bible.
On the one hand, as Christians, we respect the word of God in its printed form and we treat our bibles lovingly for what they contain. But while we love and cherish the word of God, we don't worship the paper it is printed on or the leather than holds it together. (It is not "bad luck" to recycle an old, worn out bible.)
So the answer to, "How should I dispose of an old bible?" or, "What should I do with an extra bible?" is really whatever you deem most respectful.
What is the most respectful way to off-load an old or extra bible? Send it to us.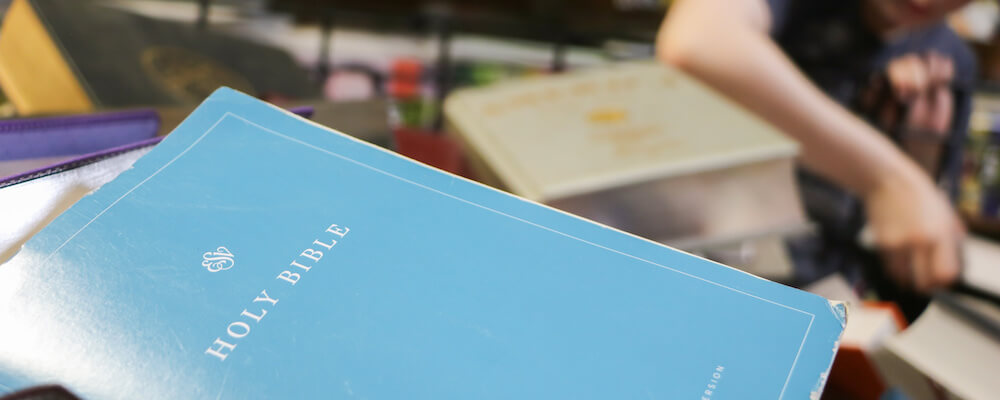 As you read this, there are countless people all over the world who are praying for a bible of their own, because prayer is the only way they'll ever get one. What could be more respectful of the word of God than to share it with someone who desperately needs it?
Martin has returned from distributing Bibles to pastors who in turn gave to their evangelism pastors, who then went to bless hospitals, prisons, and schools.

One outstanding testimony was of a young lady named Sera who wanted to burn herself up because she lost her mother and father who passed away in a motor car accident 3 months ago. Then on top of that, her husband walked out on her and left her with 4 children. It was like the gates of hell pounced on her.

The amazing thing is the Bibles that Martin took was at the right time to save this mother of four. They ministered to her and read the Story of Job. She had never heard of it in her entire life. When she heard it, she broke down and wept and wept and then gave her life to JESUS and was a brand new soul and mother.
Options for Disposing of Old Bibles
Let's look at other popular options:
Rebind it — If the cover is damaged or a section has come loose from the binding, you can always have it restored. Our culture tends to throw away and replace things that get damaged, but your bible deserves better. If it can be restored, this is a good option.


.

Bury it — Many Jewish communities bury damaged, sacred texts as a sign of respect. Some Christians have adopted the practice, however, while it's easy to see and respect the intention, we don't recommend it.


.


We have received countless testimonies over the past 40+ years of lives changed and people, families, and village saved because of one gospel track or one small devotional. How much more can God do with even a damaged bible? Burying it in the ground is, to us, a sad denial to the Church around the world who would gladly dig it up with their own hands if they could.


.

Recycle it — It is, after all, paper. Similar to the above, though, we don't recommend it, as it casually dismisses the potential of even a piece of God's word.


.

Donate it — We've seen more old, damaged bibles than most people and we can still say this is the best option!
Listen to our founder, Steve Schmidt, share a testimony from India about just how far our brothers and sisters around the world are willing to go for a bible:
Common Objections to Donating Old Bibles
There are some common circumstances, questions, and objections that arise when we talk about donating old, worn bibles.
1. But my old bible is in English.
We've been sending old, donated English bibles to the mission field for more than 40 years and not once has a distributor or missions partner said, "I really can't use these because they're in English."
Many nations and communities around the world—like Nigeria and Ghana—have taught English in their schools for years, and one quarter of India's 1.4 billion people speak and read English. Most of our distributors continuously ask for more.
With your prayerfully support, we have been able to help Pastors and missionaries with bibles and other books and the works of evangelism were expanded and the glorious message of Gods saving power had reached many regions of this part of the world, but still there are millions souls around us who have never heard the gospel of Jesus Christ and His saving power. Our friends from the missions fields and pastors from many different churches were written me and asking me to help them as usual.
2. What about my old bible that's falling apart or badly damaged?
First, "badly damaged" to most westerners is not "badly damaged" to people who routinely have to bury their Christian literature in the ground to prevent its being discovered by authorities. Or to people who carry their bibles through jungles and over mountain ranges to share the gospel with people.
But even if it is—even if pages are falling out and half of Revelation is missing—it is still more of the word of God than most people in the world will ever hold in their hands.
It sometimes feels almost rude or discourteous to donate a very damaged bible, but if you could ask our brothers and sisters in Africa and Asia whether they would prefer 95% of a bible or no bible at all … they would kiss your hands for giving them 95% of a bible.
If it still bothers you to donate a torn up bible, we invite you to buy a few new ones and send them with your old one. 😉
We do very occasionally get a donated bible that is falling to pieces because the binding is completely blown out, and those we (lovingly and respectfully) recycle. So really, it doesn't hurt to send us your old bible, no matter how damaged, and let us decide if it can be used.
How to Donate Your Old, Worn Bibles
There are several ways to get your old bibles to us. You can mail them or drop them off at either of our locations—in Illinois or Alabama:
220 Union St – Butler, IL 62015
60D South Mountain Dr – Decatur, AL 35603
You can also drop-off bible (and other Christian literature) donations at any of our partner locations near you:
While you're at it, you might consider collecting a few more things to bring with you. We have all the resources you need to run a bible drive with your local church or ministry!