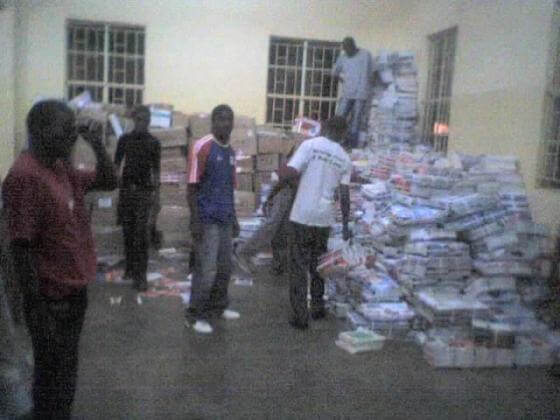 Zambia
INTRODUCTION: The Christian materials sent to Zambia have been distributed into the following categories: first, during the Operation Sunrise Africa; second, among different denominations & churches, third – evangelism activities, fourth – Pastors training and finally – Relief areas.
OPERATION SUNRISE AFRICA: The Operation Sunrise Africa project was sponsored by Campus Crusade of Christ (CCC) in conjunction with Evangelical Fellowship of Zambia. The project was about using all strategies available to reach the lost with the Gospel of our Lord Jesus Christ in 50 days. The outreach involved every church in Lusaka to reach every body with the gospel. It began on the 1st of July and ended on the 19th of August 2002. We gave out literature for the same cause to CCC who distributed in all points where evangelism was being conducted. The churches in Lusaka were evangelizing in Hospitals, clinics, market places, schools, colleges, universities, streets, stadiums, open fields, hotels, motels, parliament, companies, industries, shops, etc. In total 300,317 people were exposed to the Gospel in Lusaka by the literature. During this time 157,768 people accepted Jesus Christ as their personal saviour in Lusaka and received materials too. This is a major breakthrough. We used different ways to reach them Jesus Film, door to door evangelism, open air crusade, dinners, sports, drama, musical concerts, workshops etc. In the process three new churches were planted. Also the churches became more united than ever before.
DIFFERENT CHURCHES, DENOMINATIONS AND ORGANIZATIONS: we have had the privilege to distribute Christian materials to different churches, denominations and organizations. Here are a few: Deliverance Church in Zambia (my Church), Christian Light Life Church, Trinity Baptist Church, Crossfield Ministries, Prison Fellowship, Jesus Ministries, Pentecostal Assemblies of God, Vine Bible Church, Deeper Life Church, World Harvest Church, Abundant Life Church, Antioch Church, Upper room ministries, Living Rock Church, Jesus Assemblies Ministries, World Vision International etc. Each church and organization they get so much of the literature and then distribute in different churches and different places countrywide. For instance World Vision International is spearheading the following churches in Chama, Chainda, Chivuna, Kopa, Kalomo, Kapululwe, Luumbo, Lukweta, Lufwanyama, Makungwa, Musele, Mbala, Nakonde, Nomusa, Sinazongwe etc. World vision therefore distribute these materials to all these villages and towns. Thousands of people are exposed to the Gospel and have received Jesus Christ as their personal Saviour.
CRUSADES: Evangelical Fellowship of Zambia hosted big crusades in conjuction with churches and literature distribution. Here is a report on one of them: The Gospel Crusade held on September 6th to 8th, 2002 had over 12,000 people attend and were exposed to the Gospel of our Lord Jesus Christ. However 2300 gave their lives to Jesus Christ. The churches have since grown in number and the new converts are now being discipled. This crusade was held in Lusaka. Again we distributed Christian materials to all who attended the crusade. Other crusades have been held countrywide and thousands of people have given their lives to Jesus Christ. In addition the people have received the Christian materials.
PASTORS TRAINING: We have been training untrained Pastors in Livingstone, (540Km away from Lusaka), in Kapiri Mposhi (220Km away from Lusaka) and in Chipata (580Km away from Lusaka) We have trained 170 pastors and we distributed books, Sunday school materials and other Christian materials to each one of them for their church. Most of these pastor churches in the rural areas where they have no materials whatsoever.
RELIEF AREAS: At the moment we are distributing relief in three areas: in Luangwa, Monze nad Gwembe. After distribution of relief food, we also distribute the Christian materials to them. Again we are feeding up to 50,000 people in our country and each one received Christian material. These people are in the bush – very remote areas, but they have received the word of God. When they receive the physical food; they also receive spiritual food. They thank God for the provision and give their lives to Jesus Christ.
CONCLUSION: Unlike any other year, we have won thousands of people to Jesus Christ. With these materials its more than ever before. We would like to thank God and you for partnering with us. The report may have taken some time to come but the results here are extraordinary and exciting. Please keep up the Good work. We hope to win more people next year. As you can see by the report our literature played a significant part in the evangelism and discipleship that is taking place in Zambia.