Donate
Do you have an old bible sitting around that you're not sure what to do with?
Maybe it's a little beat up, and you've since gotten a new one. Maybe you got a different translation and you no longer use the old one anymore. Maybe a loved one recently passed and left you with boxes of bibles and other Christian literature.
However it happened, before you recycle those materials—or drop them off with a local resale store—consider donating those old bibles and getting them on the mission field.
.
UPDATE: We love hearing from you all, but please note that the map below (and on the Contact Us page) is always the most up-to-date list of drop-off locations. No need to ask if there's a location near you in a comment. All the locations are on the map.
.
Why Donate Old Bibles?
Christians all over the world live in places where bibles are difficult to find, and in conditions which make purchasing them impossible. In some international communities, a bible would cost the average villager a year's wages. In these places, even pastors and missionaries do not own their own bibles.
.
From Zimbabwe:
One young woman … waited and waited, and when everybody else had left, asked … if she could have a Bible. She had never ever owned or even touched a Bible in her entire life. She immediately went and knelt down and began thanking the Lord. It was late so Martin just left her there and went home.

The next morning he returned to open the tent and found her still there, still thanking the Lord for her prized treasure, the Bible!
.
Bibles that sit around on our shelves just collect dust. It can initially seem hard to part with an old bible that has sentimental value, but the reality is that a bible collecting dust is wasted.
It may be easier, in some ways, to take those old bibles and Christian books down the street to a resale store—or to recycle them. But when you consider that one donated bible can fuel an entire church—or a network of churches pastored by the same person—overseas, the extra effort is revealed as a small-but-worthy investment.
.
Can I Donate a Damaged Bible?
What most Americans consider "damaged" is hardly a handicap to the rest of the world. We ship tons (literally) of used bibles and Christian literature every week, and much of it is folded, wrinkled, creased, etc.
.

.
If your bible is severely damaged, you can still send it. We sort through every piece of literature that comes in our doors, so we'll look at it. If we think it is usable (and it probably is), we'll send it. If not, we'll recycle it.
.
From Ghana:
Most of these pastors were not having Bibles so I was overwhelmed with passion to carry the Bibles, books and other Christian literature to Atwea mountains prayer camp to be distributed to them. According to most of their testimonies, more souls have been won and they are now able to do good teachings with the materials.
.
Before you dispose of that old bible, let us see if we can use it.
.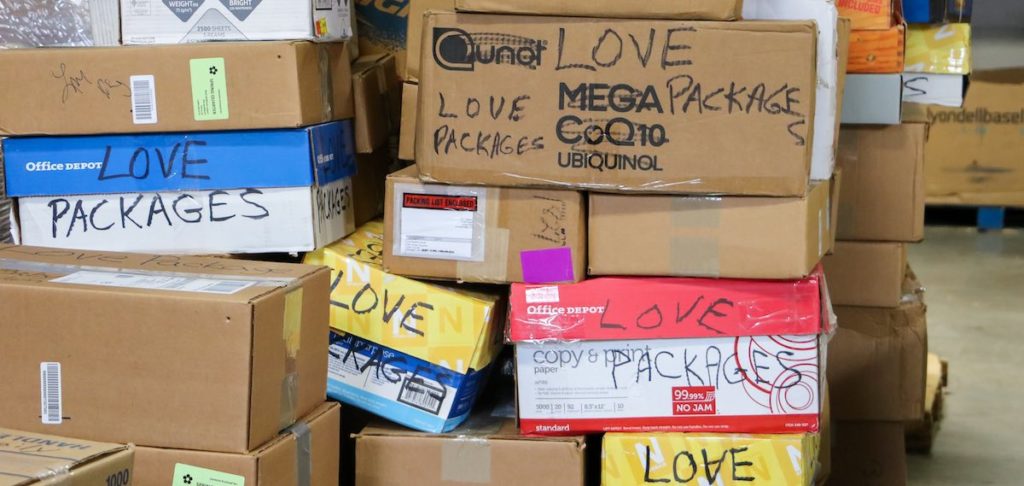 .
How to Donate Used Bibles
Getting your old bibles on the mission field is easy.
Box them up. We also ship Christian books, study guides, Sunday school literature, and more. Try to fill up the box so contents don't shift in the mail: stuff empty spaces with newspaper or some other filler if necessary.


.

Ship them to us. You can send them to Butler, Illinois, or Decatur, Alabama, at the addresses below. The most cost effective way to ship the is with the USPS's Media Mail service.


.


Bring them to us. Alternately, if you live close by, we'd love to see you! You can drop off materials at either of our locations, or at one of our partner drop-off locations (see map below).


.


Bring them to a drop-off. We partner with local churches and Christian radio stations across the country who have agreed to serve as drop-off locations. For the most up-to-date list of drop-off locations, please see the map below.
Give your used bibles and other Christian literature new life, and see what God can do.
.
From South Africa:
We are experiencing a revival amongst the Indian community – especially out of Hinduism – and therefore the demand is great for bibles. … We also supply to evangelists working among the prisoners and we get good feedback of criminals starting bible study groups and spending more time reading the word of God.
.
Ship your old bibles and other used Christian literature to us at:
220 Union St
Butler, IL 62015
or
60 South Mountain Dr, Unit D
Decatur, AL 35603
Drop-off locations:
If there is not yet a drop-off location near you, but you would like to start one, please let us know. We cannot come out to pick up donations (yet), but if you are willing to collect materials in your area and either ship or deliver them we will add you to the map!
See what other resources we can use and read more testimonies from all over the world.